July Vacation Care Bookings are now open, see here.
We will operate Vacation Care at:
Beresford Road Activity Centre
Toongabbie West Activity Centre
If you attend one of our other services you will need to link your child to your preferred service for Vacation Care.  This should be done prior to our bookings opening to speed up the process – you can experience delays if you wait.
–  Instructions on how to Link to Your Preferred Vacation Care Service.
**New to our Organisation** – If you have never used us before, in addition to, you will also need to enrol into the organisation prior to booking in for Vacation Care.   To do this please follow our steps outlined on our "How to enrol" page.
Dates for your Diary: NSW School Holidays 2021
Winter Holidays: Monday 28th June 2021 – Friday 09th July 2021.
Spring Holidays: Monday 04th October 2021 – Friday 15th October 2021
Summer Holidays: Monday 20th December 2021 – Friday 28th January 2022.
Last day of care at ACI is Thursday 23rd December 2021 – reopen on      Monday 10th January 2022
.
Billing and Cancellations
Daily Fees and charges for Vacation Care can be found  here. 

 

There is an additional charge applied for any incursions and excursions – these are outlined in the Holiday Calendar, which is made available 4 weeks prior to the Vacation Care Period. 

Fees will apply to all bookings, unless you have cancelled your booking in writing by the cut-off

date for the holiday period.

 No 

Cancellations will be accepted after this date.

 

If you do not usually attend Girraween Activity Centre for Before and After care, you may have 2 debits from your nominated account; 1 for Before and After Care fees at you regular service and 1 for you Vacation Care fees at Girraween Activity Centre.   These Debits will show on your statement prior to being processed, as per our usual billing cycle. 

 

 
.
Child Care Subsity (CCS)
If you have not used "Girraween Activity Centre" in 12 weeks your CCS will automatically drop off and will show up as 'Ceased'.  If you only use Vacation Care, this will apply to you every holiday period.  

 

To ensure that you receive CCS for Vacation Care, 

 you need to confirm your enrolment with CCS. 

To confirm your 

CCS

 you need to go on your My Gov account and go to your tasks and confirm your booking at Girraween Activity Centre.

 

 

It is your responsibility to ensure you confirm your bookings, without completing this step you will pay full fees for the vacation care period.

 

 
When Logging into My Gov to confirm CCS enrolment.  
Centrelink have their own weeks (that apply to 

their CCS fortnights

), these do not always match our week one and two of vacation care, so this can be confusing when you go into confirm.   

 

CCS fortnights are sometimes different to Vacation Care Weeks, 

p

lease 

don't

 just "dispute" the booking as this can take some time to rectify.   Your booked days are correct as of this confirmation letter.

 

As per Centrelink guidelines, there may be some days during this vacation care period where you will be charged full fees, due to you capping out your approved hours in the CCS fortnight. 

 

 
.
Arrival, Departures and Absences
An authorised person must sign children into care and out of care each day.   The service cannot be held liable for any child not signed in care.

 

Children must be collected before 6:30pm.   A late fee of $5.00 per family per minute applies after 6:30pm.

 

If a child is to be absent, parents/ guardians must contact the service before 8:30am and inform Educators of my child's absence. Failure to do so will incur a $10.00 non-notification fee.

 

I will be charged for any absent days.

  

 
.
What to Pack
A Hat – No Visors

 

Closed in sturdy shoes, sturdy sandals with back straps NO THONGS.

 

Play clothing – that children can move and play in and that they can get a bit dirty without worrying about it.

 

Children must be dressed appropriately for the weather conditions.

All t-shirts/tops dresses must cover shoulders. 

NO SINGLET TOPS.

 

Packed healthy recess and lunch – please include an ice brick to keep lunch fresh and refillable drink bottle. 

Please ensure you pack enough food to last the day.

A change of clothing, a towel, sun shirt or t-shirt (for covering their shoulders while engaging in water play), as well as shoes that can get wet (no thongs), costume, hat and sunscreen.

 

Ideas for packing a healthy lunch can be found at: 

http://www.healthykids.nsw.gov.au/parents-carers/healthy-eating-and-drinking/lunch-box-ideas.aspx

 

                                      

 
Please Note: 
We would prefer you leave toys and personal items at home.  The service takes no responsibility for items that are lost, broken or stolen.

 

Please ensure that all items are labeled with your child's name. 

 

Children are NOT to bring mobile phones or devices capable of making phone calls (e.g. smart watches) to the Centre.

 
.
Medical Conditions, Asthma, Allergies and Additional Needs
Families must inform the service of any behavioural, medical or additional needs that a child may have to ensure the service is adequately staffed to cater for all children's needs at the Service.

It is the parent/guardians responsibility to inform the service of any changes to your child's medical conditions and to ensure all medications for your child are supplied to the service and complete the appropriate forms.  Without the correct medications and completed paperwork children will be unable to attend the service. 

As per Regulation 95, medication must be supplied in the original container.

Medication cannot be administered if there is not a completed Medication Form or it is not in its original container.
.
Electronic Games and Media
Children can bring along their electronic gaming device to be played with during the allocated times only – when not being played children can lock games up and sign them into our register.

 

All devices must have internet, calling and messaging capabilities shut off prior to them being brought into the service. 

If these features can't be deactivated then children will not be able to play on then, we will lock them up in a secure location and hand back to the parent at the end of the day.
We ask that no child bring phones or devices capable of making phone calls and messages, including smart watches – if families wish to contact their child while they are in care, you are welcome to do so via calling the service directly.
All gaming device cameras must be covered at all times.

 

One

 device per child is to be brought in.

 

Games and Apps used need to be ra

ted G or PG only.  Educators will

 not allow children to play games they deem as inappropriate. 

 

Social Media applications and sites will not be able to be used while at the service.

Please label all devices with names. 

 

We WILL NOT charge game devices at the service – they must come fully charged.

 

Children are only permitted to play their own device.

Anyone not following the rules will not be permitted to play.

 

We take no responsibility for lost or broken electronic devices.  If you are concerned about this please leave them at home.

 

We ask parents ensure they discuss these rules with your child prior to allowing them to bring their devices to the service.
.
Additional Information
Emergency drills are practiced randomly throughout the holidays.  The evacuation plan is in place and located at the exit of each room.

 

First aid kits are easily accessible and well stocked at all times. 

 

At all times we will have educators on shift who hold a current first aid certificate, as well as asthma and anaphylaxis training.

 

Sunscreen is available at the service and will be applied to the children when required.

 

While at the service children may be photographed and appear in photo books, organisation videos, class dojo, social media or our website.   If I do not wish for this to occur then you need to inform the service is writing and update your enrolment form in My Family Lounge.

 

All children are expected to follow the Service rules and Educator instructions.  If a child fails to do so, a parent/guardian or (if they are unavailable) an authorised contact will be called to collect. 

Families and Children must abide by all Activity Centres Inc., Policies and Procedures.   These can be viewed o

n request at the service or here
.
If you have any suggestions of activities your children would like to do during vacation care or any feedback please let us know
  vac@activitycentres.com.au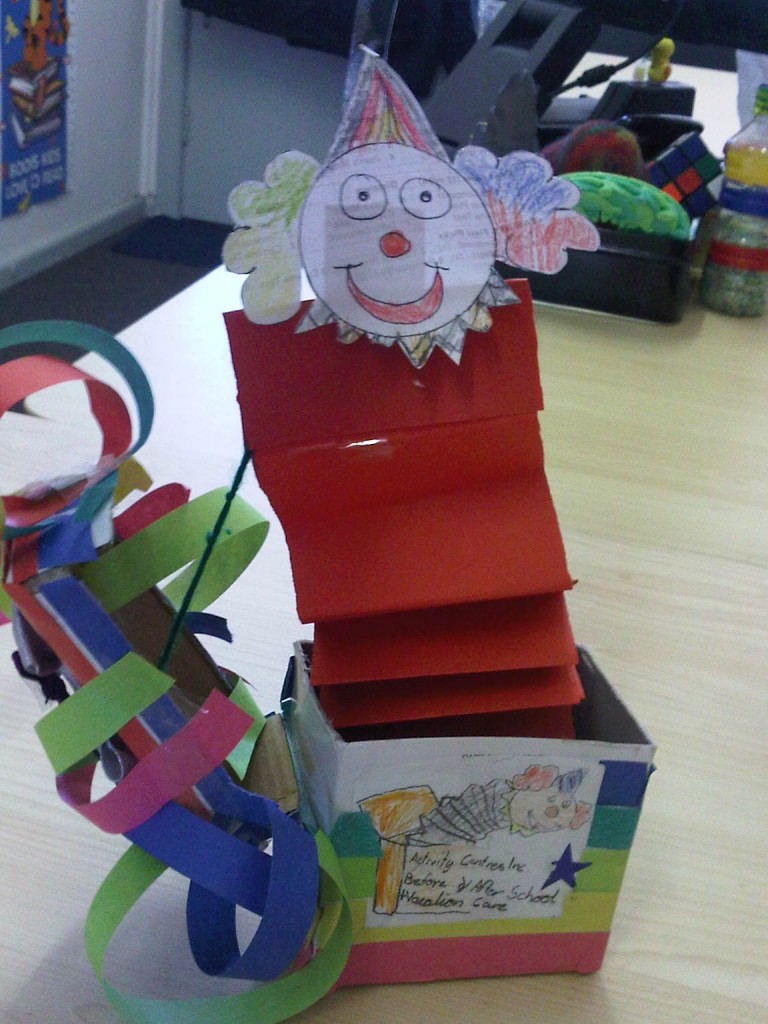 http://www.activitycentres.com.au/wpsite/?attachment_id=1152