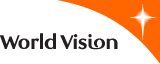 Welcome to our World Vision Page. Did you know that every time your child purchases an Ice block from the centre profits go into pay for the sponsorship of some well deserved children in other parts of the world.
Activity Centres Inc is committed in sponsoring children through World Vision.
Our support through World Vision has given these children and their communities the basic needs we all take for granted and has given them hope for their futures.
These are the children we currently sponsor
Fabiana     Frida     Roderick    Yolanda    Moe
Here is the children we have sponsored in the past .Click Here